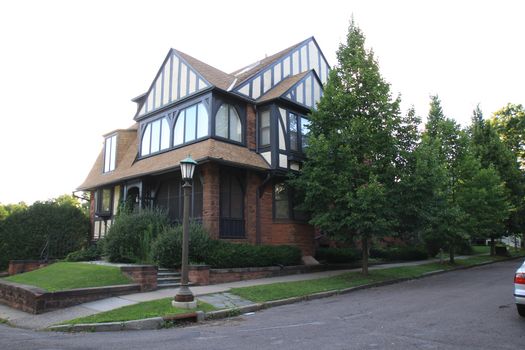 Cass & Julia Gilbert Residence
Other Names:

71 Floral Street House

Location:

1 Heather Place, Saint Paul, Minnesota

Design & Construction:

1889-1890[1890 Christen-2001]

Architect:

Gilbert & Taylor
The first residence that Gilbert designed for himself and his wife Julia was a Shingle Style design, dominated by a tall overhanging gambrel roof. Gilbert's original house has been greatly altered. A tuck-under garage has been added, the shingles have been removed and replaced with stucco and half-timbering, and some windows have been replaced, although it retains many of its original leaded-glass windows. The brownstone-faced first story is unusual in Saint Paul and unusual for Gilbert but a common design element in East Coast Shingle-Style buildings and some of Gilbert's summer cottages. The interiors included a sitting room-stair hall of the type that had been popularized by McKim, Mead & White and a dining room with colonial details.
Gilbert considered building on the vacant Aurora Avenue property that was owned by his family and had been the site of the family's first home in Saint Paul, but it was not in a fashionable neighborhood. In a letter to his mother, Gilbert stated that the Ashland Avenue house that he had designed for her, sitting empty much of the time while his mother stayed with family and friends in California, was too big for him. It is likely that he did not want to live with his mother in her home, although his mother did live in the Heather Place house at least occasionally. It was also important to Gilbert that he present his wife with her own home, and the house on Heather Place was in his wife's name. [Their New York City town house on East 94th Street, designed by Gilbert in 1925, was also in Julia Finch Gilbert's name.]
When Gilbert built his modest house on its small lot, the street was named Floral. It was later changed to Heather Place to honor the family that originally owned most of the property in the neighborhood and from whom Gilbert bought his lot. He wrote his mother that the asking price for the lot was $5700, but he was going to offer $5000. [CG to Elizabeth Gilbert, December 1,1889, LOC-CGP] The house cost $6500. In 1890, the view from Gilbert's house was spectacular. To the southwest, he could see the houses on the bluff of Crocus Hill, including the two houses he designed for the Adams family. To the southeast, he could see across the Mississippi River valley. Gilbert had moved to New York before Reed & Stem blocked his view with the California-inspired, English Cottage-style houses at 5 and 7 Heather Place, built for the Goodkinds, Gilbert's client for the Mannheimer Memorial (1904-1905).