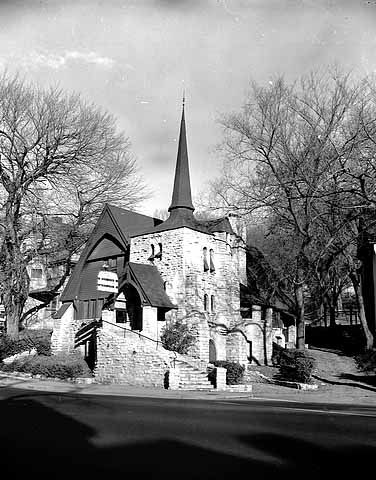 German Bethlehem Presbyterian Church
Other Names:

Gargoyle Club

Location:

311 Ramsey Street, Saint Paul, Minnesota

Design & Construction:

1890 [1890 Irish-1999; 1890 Christen-2001]

Architect:

Cass Gilbert
While nominally Shingle style, this building has no precedent, although some of the design inspiration may come from romantic mountain buildings of Germany and Switzerland. The S-shaped stairway and hillside setting are not unlike some of Gilbert's drawings from his days at MIT. Much of the success of the building's design is the attention to detail Gilbert & Taylor paid to all four of the building's facades.
Niklaus Bolt, a native of Switzerland, organized the congregation, which met at the Goodrich Avenue Presbyterian Church until its own building could be constructed. House of Hope Presbyterian Church and Noyes were major contributors to the church building. Gilbert clients G.C. Squires, W.S. Morton, and E.W. Peet were on the church's executive committee. After the congregation disbanded in 1916, the building was taken over by the Gargoyle Club, an extant architects' eating and drinking society that numbers Edwin Lundie among its founders. An important Minnesota residential architect, Lundie served an apprenticeship with Gilbert and later was a partner of Holyoke. The Gargoyle Club sold the building during the 1960's, and in the years since, it has housed diverse tenants. Niklaus Bolt returned to Switzerland in 1901 and was a minister in Lugano for twenty-three years. He would also gain considerable fame in Europe as a writer of children's books.[Bolt Family Archives, Thomas R. Blanck Collection.]
In 1930, Gilbert, after being absent from St. Paul for many years, returned to work on plans for the Capitol Approach. Apart from the capitol, the buildings he wanted to see were his house at 1 Heather Place and the German Bethlehem Presbyterian Church.