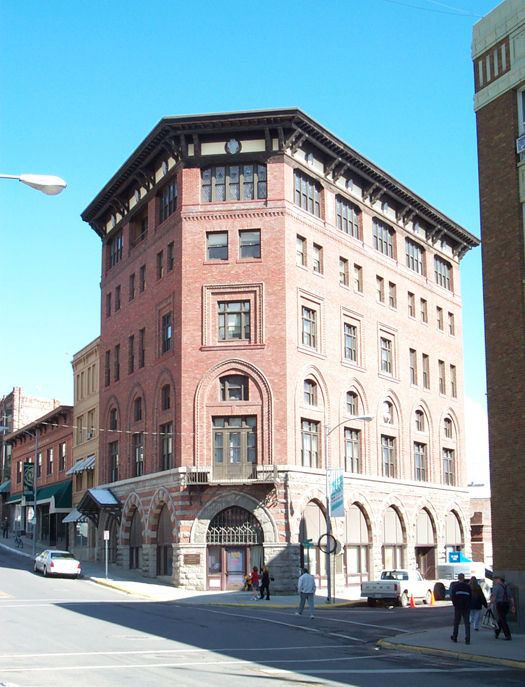 Montana Club
Location:

24 W. Sixth Street, Helena, Montana

Design & Construction:

1903-1905[1906 Irish-1999; 1903-1906 Christen-2001]

Architect:

Cass Gilbert
Gilbert's design for the Montana Club was built on the ashes of the original 1880s building. The floor of the entry and the Gothic arches of the first floor survive from the first building. Gilbert added an elegantly detailed, Italianate gable-roofed front entry. The cornice ventures into the Mission style. Third-floor corner windows are detailed with Renaissance-inspired brick surrounds. The windows of the fifth floor enclose an English dining room complete with leaded windows featuring cartouches of western scenes of cowboys, Indians, and covered wagons. The interiors are American Colonial or English in origin except for the rathskeller. The idea for a rathskeller may have come from the Minnesota State Capitol where Gilbert was designing a rathskeller at the time. Like the State Savings Bank (1906-09), this building is eclectic and hard to pigeonhole into a "style," although the overall character of the exterior is Italian Renaissance revival. Carsley described the project as a design depending more on the elaboration of color than ornament. The engineer was Gunwald Aus. The contractor was the Congress Construction Company of Chicago.
Gilbert likely won the project through the influence of J.S.M. Neill, a schoolmate from St. Paul, and client Seligman as well as other members of his Montana network. The head of the building committee was E.G. Day who later promoted Gilbert for the St. Peters Hospital (1908-10).
The original ink rendering of the building still hangs in the entry. The building remains today with only minor changes to Gilbert's original plan.