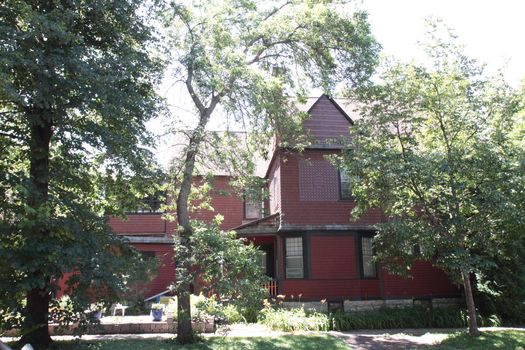 House on Virginia Avenue
Other Names:

T.L. Schurmeier House; Flandrau Sturgis House; 130 Virginia Street House; 189 Virginia Avenue House (moved)

Location:

130 Virginia St., Saint Paul, Minnesota

Design & Construction:

1883, 1887 (moved)[1883 Christen-2001]

Architect:

Cass Gilbert
The house at 130 Virginia Street has a convoluted history. One of the first works designed by Gilbert as an independent architect, it was built for Theodore L. Schurmeier at 189 Virginia Avenue. [Christen-2001 p 49] The detailing of the gable with its courses of shingles, river gravel embedded in stucco, and half-timbering was current with the work of McKim, Mead & White, and Gilbert would use elements of this design two years later in the front gable of the Goodrich Avenue Presbyterian Church. Gilbert's arrangement of the bay windows would be used on the MacLaren House (ca. 1896).
Schurmeier was a principal in the dry goods firm of Lindeke, Warner & Schurmeier and a director of First National Bank. In 1882, Schurmeier married Caroline Gotzian, the daughter of Conrad Gotzian, founder of C. Gotzian & Company, a manufacturer and jobber of shoes and boots for whom Gilbert would design two commercial buildings. Gilbert would also design residences for both the president and secretary of C. Gotzian & Company. In 1887, Schurmeier hired architect Clarence Johnston to design a new house for him at 5 Crocus Hill.
In that same year, 1887, Clarence Johnston would win the contract for the Aberdeen Hotel that was to be built on the original site of the Schurmeier House. The house was moved two blocks south to its present location at 130 Virginia Street. (For many years, Virginia was identified as both an "avenue" and a "street.") The adjacent house now blocks the facade that is so visible in an 1883 rendering that Gilbert made of the house. [The Gilbert rendering titled "House for Virginia Ave." is in the collection of the New-York Historical Society. Christen-2001 p 295n9. The rendering is reproduced in Irish-1999 but is misidentified as the Elizabeth Gilbert House.] During reconstruction, overhanging eaves were added and some windows removed.