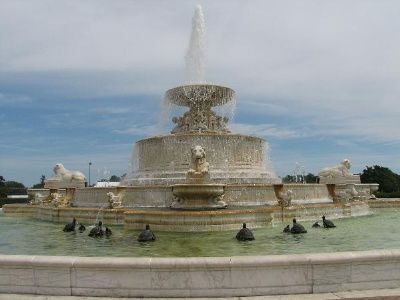 James Scott Memorial Fountain
Location:

Belle Isle Park, Detroit, Michigan

Design & Construction:

1921-1925[1921-22 Irish-1999]

Architect:

Cass Gilbert, with sculptor Herbert Adams
The James Scott Memorial Fountain is located at the west end of Belle Isle Park, which is situated in the narrows of the Detroit River, midway between the United States and Canada. The park itself was laid out by Frederick Law Olmsted between 1882 and 1884 and subsequently expanded and modified.
The fountain was funded by a bequest from Detroit playboy millionaire James Scott. Gilbert won a national competition for the design in 1914, but because of controversy over the bequest and the scope of the project, completion took many years. In addition to the fountain and the statue of Scott specified in the bequest, Gilbert's design called for an amphitheater, a lagoon, and a bridge from the mainland to Belle Isle. Work on landfill to expand the island began in 1917. Construction on the fountain itself finally began in 1921, and the fountain was dedicated in 1925. [Irish-1999, p 108-109; Lochbiler-1997]
The fountain, executed of white marble, rises from a marble terrace in a series of basins. The basins are adorned with bas-relief panels. Sculpted lions, dolphins, and turtles, and the head of Neptune spout water. A life-sized bronze statue of Scott, set on a granite plinth, faces the fountain. The sculpture was executed by Herbert Adams. Marble steps leading from the fountain terrace to the river evoke the design of Bethesda Terrace in New York's Central Park.
See Also
William A. Coles. "The History of America's Greatest Fountain: The Scott Memorial Fountain on Belle Isle, Detroit." Classical America 3 (1973): 5-26.

Don Lochbiler. "Detroit's Fountain of Mirth." (The Detroit News November 7, 1997) http://apps.detnews.com/apps/history/index.php?id=193