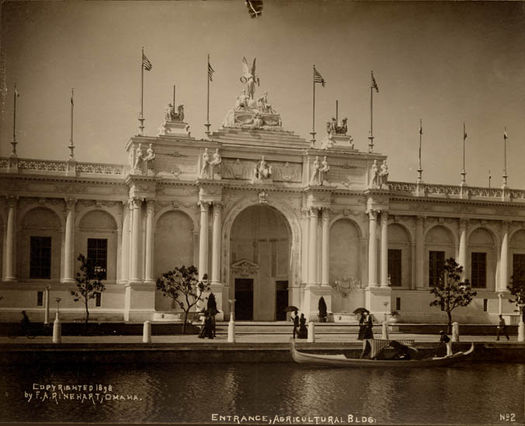 Omaha Exposition Agricultural Building
Other Names:

Trans-Mississippi and International Exposition Agricultural Building

Location:

Temporary exposition, Omaha, Nebraska

Design & Construction:

1898, razed[1898 Irish-1999; 1898 Christen-2001]

Architect:

Cass Gilbert
Sorely disappointed that he was unable to design a building at the World's Columbian Exposition in Chicago in 1893, Gilbert had his first opportunity to work on a building for a world's fair—officially the Trans-Mississippi and International Exposition—in Omaha, Nebraska, in 1898. The American Renaissance, Beaux-Arts inspired design (although smaller in scale) would have fit perfectly in the White City. The building was constructed of staff, a mixture of plaster and straw, as were most temporary exhibition buildings of the era. Like the Chicago fair, the Grand Court of the Omaha fair was organized around a lagoon.
The Agricultural Building fronted on the lagoon. Inside, the building was a wood frame with exposed trusses with an interior space rising about 25 feet. The building was bounded at the corners by pavilions with a large multistory arched opening on each face. The main entry was through a center pavilion with three arches, a motif derived from Roman triumphal arches. Engaged arcades linked the corner pavilions and the center entry pavilion. Eight sculptures, representing the seasons, were placed above the parapet on the front elevation with the largest sculpture placed above the entrance. Garlands of fruits and flowers, bas-relief figures of bull's heads and barnyard fowls, as well as ornamental depictions of corn and other grains adorned the pediments, panels, and spandrels. Inside the building were displays of agricultural and forestry products, from fifteen states, private companies and industries, and Cuba, newly liberated from Spanish colonial rule. [Omaha-1898-Expo-Illus, pp 24-25]
The triple-arched entry is a motif Gilbert used on the Minnesota State Capitol, which broke with a tradition of placing a Greek temple front at the entrance of important civic buildings. Both the Omaha building and the Minnesota Capitol with the juxtaposition of pavilions, arcades, and sculpture are characteristic of the Beaux-Arts style.
Contemporary sources suggested that while the Agricultural Building presented a grand view across the lagoon, the overall plan had some problems of circulation. Gilbert had intended the central entrance facing the lagoon to be the primary one. However, fair visitors were equally likely to use the smaller doorways at the ends as they moved among the buildings. In addition, the roof leaked, testament to the temporary nature of the building, which only was open to the public during the five months of the exposition. [OPL-1898-Expo]