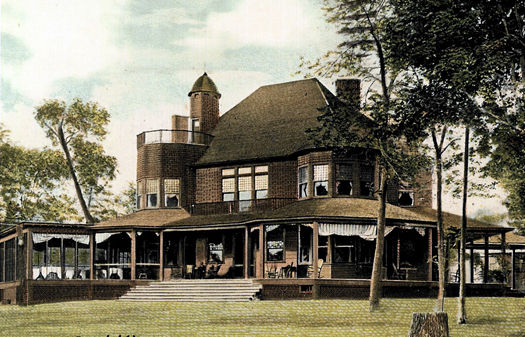 Town & Country Club
Location:

291 Otis Avenue, Saint Paul, Minnesota

Design & Construction:

1890 [1890 Christen-2001]

Architect:

Gilbert & Taylor
The Shingle-style design features thirty-six-over-one-light cottage windows, surrounding verandas covered by low, sweeping roofs, and a shingle exterior. An observation deck sits on a two-story polygonal tower, and a spiral stair topped with a bell-cast roof provides access to the deck. This stairway is nearly identical to the stairway in the Seligman Carriage House (1887).
Many Gilbert & Taylor clients and neighbors were members of Town & Country Club, now the nation's second oldest golf club still operating in its original location. E.W. Peet, a Gilbert & Taylor client, was chairman of the building committee when the clubhouse was designed and built. Gilbert expanded the facility in 1898. Gilbert, a member of many clubs, took a strong interest in clubhouse design, although when Town & Country Club offered him a membership in lieu of his fee, he turned down the offer, stating that it was unacceptable to his partner and Gilbert could not afford to belong.[CG memo, undated, Box: 16, MNHS-CGP.]
The clubhouse was replaced in the 1950's.