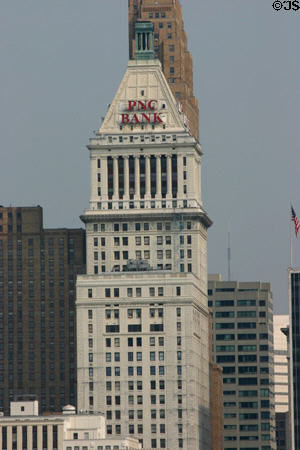 Union Central Life Insurance Co. Building
Other Names:

Union Central; PNC Tower

Location:

1-11 West 4th Street, Cincinnati, Ohio

Design & Construction:

1911-1913[1911-1913 Irish-1999]

Architect:

Cass Gilbert and Garber & Woodward
The 495-foot tall Union Central Life Insurance Company Building is one of the major skyscrapers designed by Gilbert and the only one constructed outside of the New York City area. Its construction between 1911 and 1913 was intended to "mark Cincinnati as a significant regional center in the insurance industry." [Christen-2009 p 54]
Jesse Redman Clark, president of Union Central Life, sought a design for the company's new building from Gilbert, based in part on the reputation Gilbert had achieved for the design of the West Street Building in New York. Local Cincinnati architects Frederick W. Garber and Clifford B. Woodward were brought in as associates. The new building was constructed on the site of the Cincinnati Chamber of Commerce which had been destroyed in a fire in 1911. The Chamber was to occupy a portion of the new building. The main floor was to be leased to the Central Trust Company, while the insurance company was to occupy the upper eight floors of the building.
The Woolworth Building was well underway when Gilbert received the Cincinnati commission, and he used many of the same contractors and subcontractors, including the Thompson-Starrett Construction Company, engineering contractor Gunvald Aus, the American Bridge Company for the steel framing, and the Atlantic Terra Cotta Company for the exterior cladding.
The design takes the form of a tower terminating in a pyramidal roof above a multi-story colonnade and surmounted by a lantern that conceals the smokestack. It was inspired in part by St. Mark's bell tower in Venice, the fourth-century B.C. Mausoleum at Helicarnassus, and the Bankers Trust Company Building (1910-1912) in New York, designed by Trowbridge and Livingston. [Christen-2009 p 68; Irish-1999 p 136] Christen comments: "In the Union Central Life Insurance Company Building, Gilbert and his collaborators created a powerful symbolic architectural language that conveyed the strength and stability of the insurance industry in the early twentieth century." [Christen-2009 p 72]
See Also
Barbara S. Christen. "Patronage, Politics and Civic Identity: The Development of Cincinnati's Union Central Life Insurance Company Building." Ohio Valley History 9 no. 2 (Summer 2009): 54-77.