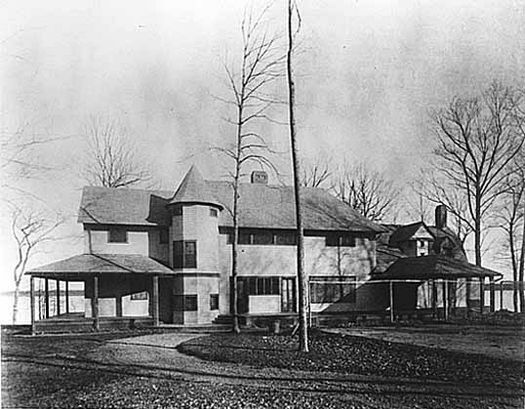 J.B. Tarbox Summer Cottage
Other Names:

Jasper Tarbox Cottage

Location:

2517 Manitou Island, White Bear Lake, Minnesota

Design & Construction:

1889[1889 Irish-1999]

Architect:

Cass Gilbert
The Jasper Tarbox Cottage is Gilbert & Taylor's most stylistically correct Shingle-style cottage, following the lead of well-established eastern Shingle-style architects like McKim, Mead & White, Bruce Price, and William Ralph Emerson. A projecting stairwell on one end and gambrel gable on the other end accent its long roof and facade. Long, low surrounding porches—simply detailed with square posts—cottage windows, and shingled eyebrow windows add to its eastern correctness.
Tarbox manufactured shoes. Along with Conrad Gotzian, he was one of two Gilbert clients involved in the manufacture and jobbing of boots and shoes. Tarbox was a one-time tenant of the Gilbert Estate and the Endicott Rantoul Warehouse. He also set up a shoe factory in South Park, perhaps taking advantage of the developers' offer of free land for commercial enterprises.[Glewwe-1987p 35.] Tarbox also subdivided residential property in South St. Paul, and a subdivision bears his name.
The Tarbox Cottage was moved a short distance to its present location by neighbor E.W. Peet. The Tarbox Cottage still looks much like it did when it was built.
See Also
Lois A. Glewwe, ed. South St. Paul Centennial 1887-1987: The History of South St. Paul, Minnesota (South St. Paul Area Chapter, Dakota County Historical Society, 1987).